Kristen Ekedal, NBC H.I.S.
Experienced Hearing Care Professional
I moved to New Mexico from California in 2006, following the rest of my family to the "Land of Enchantment". Shortly after arriving, I noticed that my father was having difficulty following conversations and often asking for us to repeat what was said. We were all getting frustrated with his inability to hear clearly. His frustration led him to go to a local hearing aid dealership where he was fitted with hearing instruments. He didn't tell any of us that he had purchased hearing aids. He found them unhelpful in the situations he was finding difficult, got no help from his dispenser and was embarrassed about his costly failure. He felt cheated and angry. Then he just tucked them away in his closet. Out of sight… out of mind.
When I found out about his saga, I felt angry too. Luckily, I had made a friend since arriving in Albuquerque who is an audiologist. When I told her the story about my father's experience, she had some suggestions. She said there was a better way for people to get help for their hearing problems, and it was very important that people actually get the proper treatment. Having a background in Computer Science and a degree from Occidental College in the History of Science and Technology, I found hearing instrumentation very interesting. My friend recommended that I explore coming to work in the field. I began training with her and taking the appropriate course work to become a Hearing Instrument Specialist. I learned that we can provide guarantees so that no hearing instrument ever lives in a closet or a dresser drawer. I learned that properly fitted hearing instruments require appropriate testing and appropriate determination of what treatment is needed for each individual.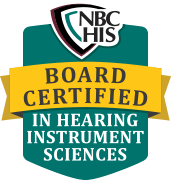 Taking this career path has proved to be one of the most fortuitous decisions I have ever made. I am intellectually challenged in this dynamic and evolving field while being rewarded by having helped thousands of people engage in their lives more fully through better hearing.
Degrees & Memberships
Bachelor of Arts in History- Occidental College – 1996
American Hearing Instrument Society
Board Certified in Hearing Instrument Sciences
Meet Kristen Ekedal, NBC H.I.S. - Schedule Your Appointment Today
To experience compassionate hearing care, schedule your Complimentary New Patient Consultation today by calling (505) 772-9300. You may also click here for our convenient online form. Your appointment includes the following:
Discuss Your Goals
Thorough Hearing Assessment
Custom Treatment Plan
Start Treatment If Desired
During your appointment, we will take the time to answer all your questions about our advanced treatments and technology, our flexible payment options, and anything else you may want to know about us!